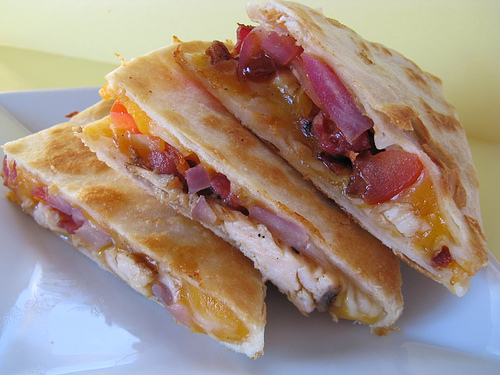 Ingredients :
1 cup chopped skinless, boneless rotisserie chicken breast
1/3 cup refrigerated fresh salsa
1/4 cup canned no-salt-added black beans, rinsed and drained
1/4 cup frozen whole-kernel corn, thawed
1 1/2 tablespoons chopped pickled jalapeño pepper
8 (6-inch) flour tortillas
1 cup shredded reduced-fat Monterey Jack cheese
Cooking spray
1/4 cup reduced-fat sour cream
Instructions :
1. Combine first 5 ingredients in a medium bowl.
2. Divide chicken mixture evenly over 4 tortillas.
3. Sprinkle quesadillas evenly with cheese.
4. Top with remaining 4 tortillas.
6. Heat a large skillet over medium-high heat.
7. Coat pan with cooking spray.
8. Add 1 quesadilla to pan; cook 1 minute on each side or until golden.
9. Remove from pan, and repeat with remaining quesadillas. Serve with sour cream.